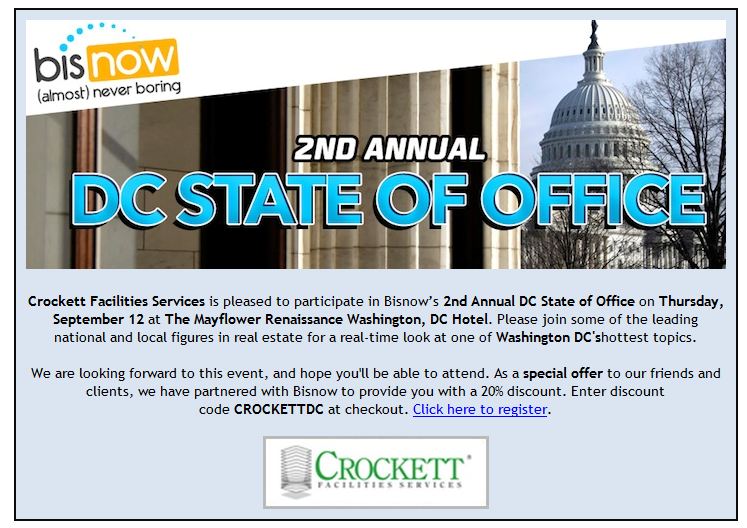 On Thursday morning, September 12 at the Mayflower Renaissance Washington, DC Hotel, please join Crockett Facilities Services and some of the leading national and local figures in real estate at Bisnow's 2nd Annual DC State of Office Event.
The event will be centered around the growing DC Office market, the people who are shaping the market, and how tenants are using these spaces.
The topics, along with great panels, will be attracting about 500 – 550 attendees, including brokers, owners, lenders, architects, general contractors, etc., from business development executives to C level decision makers.
The content will be broken out to two panels, one on office development and leasing, and one focusing on how these projects are being designed and built.
Click here to register and enter the code CROCKETTDC at checkout to receive a 20% discount.
We hope to see you there!
To learn more about Bisnow's 2nd Annual DC State of Office or how Crockett Facilities Services is helping property managers and building owners to save operating costs with preventive HVAC and mechanical services, please contact Crockett Facilities Services Inc. (CFSI), a mechanical services contractor, by calling 202.600.2787 or email sales@crockett-facilities.com.