HVAC Installation & Repair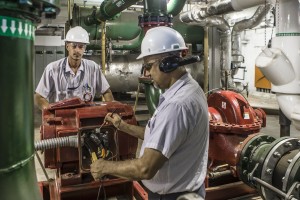 We take a proactive approach in serving and maintaining your HVAC equipment. Our service technicians go beyond just repairing your heating and cooling equipment. They determine the cause of the problem and offer short and long term solutions to fit your budget. By using all of their senses – smell, touch, sound and sight – they proactively look for warning signs in all HVAC equipment operation to prevent future issues. Our HVAC service technicians also take into consideration the operating efficiencies of all the related equipment in a building.
Experts in HVAC Maintenance
Rather than outsource service to subcontractors, we self-perform a comprehensive range of HVAC services: HVAC equipment installation, replacement, and repair, plus preventive maintenance services.
HVAC equipment installation, replacement and repair
Equipment tours − to verify and adjust critical equipment operation
HVAC start-up and commissioning, including international commissioning
Equipment retrofits − to increase reliability and efficiency and lower energy usage
Energy audits − to identify cost-saving measures
Our service technicians are fully trained and qualified to maintain, repair, troubleshoot and install all types of sophisticated refrigeration, dehumidification and heating, ventilation and air conditioning systems, such as rooftop units, air handling units, chillers, heat pumps and boilers. Regardless of the manufacturer or model of your HVAC equipment, our service technicians have the tools and skills to service all the leading brands, including:
Emerson
Liebert
Carrier
York
Trane
Mitsubishi
Bard
McQuay
Stulz-ATS
To provide you with the best quality service, our service technicians keep abreast of the latest HVAC technologies and repair practices by attending intense, hands-on manufacturer training classes, including classes for Carrier Centrifugal Chillers, Trane Rooftop Units and Trane Chillers. By investing in training and industry-leading practices, we optimize equipment operation and extend equipment lifespan. Repairs and installations are done right the first time.