Government
Complete Facilities Management, Operations and Maintenance Services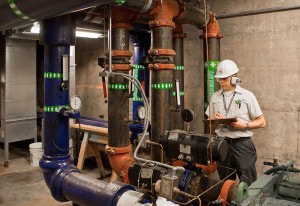 As a WOSB, Crockett Facilities Services, Inc. has over 20 years of federal contract experience as a prime contractor in federal office buildings. We provide long-term value through building systems optimization of all heating, ventilation and air conditioning equipment. Our service offerings of Facilities Services, HVAC/Mechanical Services and Building Engineers provides our customers a single source solution for all their facilities needs.
Full Range of Facility Services
Along with our on-site facilities management team, we can provide mobile service for HVAC maintenance and repairs when needed. With our comprehensive service offerings, we help federal, state, local and international government organizations provide safe and comfortable environments. Our services include: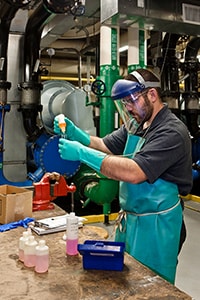 Building operation, maintenance, installation and repair
HVAC services and preventive maintenance
Mission-critical data center maintenance
UPS/generator services
MEP services (mechanical, electrical, plumbing)
Energy management control systems and audits
24/7/365 emergency response and service calls
Building retro-commissioning
Equipment tours and watch standing programs
Computerized maintenance management systems (CMMS)
Custodial and green cleaning services
Quality control and safety programs
Fire protection/life safety
We seamlessly integrate customer needs with our resources to provide timely and high-quality services. We have the capabilities, expertise and proven track record to execute government facility management contracts successfully.
Manage government contracts across Washington, DC, Maryland, Virginia, Pennsylvania, New Hampshire, Florida, Georgia and South Carolina
Service over 14 million square feet of government and commercial office space
Awarded 30 prime federal government contracts for consolidated facilities management services, operations and mechanical maintenance services and custodial services
Managed multiple government buildings spread across a wide geographical area under one government contract
Won our first government facilities management contract in 2003
High degree of face-to-face customer interaction for customer satisfaction
Complete all contract elements on time and accurately; according to schedule and established standards based on our Quality Control Plan
Proven standard operating procedures
Established safety programs
Some current and past government customers:
U.S. Department of State
U.S. General Services Administration
U.S. Army Corps of Engineers
U.S. Department of Defense
Federal Bureau of Investigation
U.S. Department of the Interior
Primary NAICS Codes
561210 – Facilities Support Services
238220 – Plumbing, Heating & Air Conditioning Contractors
238290 – Other Building Equipment Contractors
561720 – Janitorial Services
561790 – Other Services to Buildings and Dwellings
811310 – Commercial and Industrial Machinery & Equipment Repair