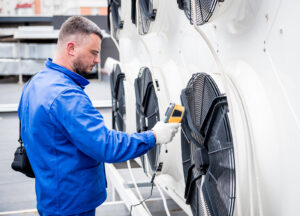 Building engineers know that HVAC maintenance isn't scary if you plan ahead. But it can be frightening if you are responsible for building facilities, and don't have a dedicated team that handles preventive maintenance. If you haven't already, now is the time to treat your building's HVAC system with care to avoid tricky problems when cold weather arrives. Here are five treats your commercial HVAC system will appreciate:
Winterize The System: Regularly check for drafts, leaks, and cracks where heated air can escape the building. Insulate pipes in unheated spaces to prevent them from freezing. Ensure that heat tape activates during cold weather to protect pipes from freezing. Ensure all radiant and electric heaters are functioning properly particularly in mechanical rooms, stairwells and loading docks. If using gas heat, review gas lines and gas line connections for corrosion to determine if they need to be replaced. Inspect weatherproofing on doors to ensure tight seals. And ensure drain piping is secured for winter operation or add anti-freeze to active piping systems as required.
Clean the Ducts: Cleaning building ductwork can improve air quality and energy efficiency while protecting the HVAC system for long-term ROI. Dirty or clogged air ducts can put tremendous strain on a commercial HVAC system, requiring it to work harder than usual to circulate air or heat throughout a building. This may cause it to become inefficient and consume a surplus of energy, which affects your bottom line. Even worse, it can diminish the lifespan of your system, leading to malfunction or shut down. Cleaning air ducts is a key step in protecting your commercial HVAC and prolonging its lifespan.
Schedule Preventive Maintenance: Moving parts in boilers, heat exchangers, air handlers and cooling towers should receive the proper amounts of lubrication, and any worn-out parts should be removed and replaced with newer ones that won't interfere with the HVAC system's efficiency. The burner, heat exchanger, and fuel lines all need to work together so systems run smoothly.
Install Programmable Thermostats: Programmable thermostats can help you stabilize indoor comfort levels and energy bills. This stability helps reduce the stress placed on the furnace during unusual swings in temperature. They can also allow centralization, so there are consistent settings throughout the building, reducing opportunities for hot zones or trouble spots.
Crockett Facilities Can Help!
Crockett Facilities Services is committed to helping building owners, property managers, engineers, and facility professionals lower operating expenses through HVAC preventive maintenance. We develop cost-effective, customized preventive maintenance plans for commercial buildings, providing you with peace of mind, improved comfort, and energy savings. Call 301-781-7302 today or click here to request a quote online and treat yourself to someone else taking great care of your HVAC systems.