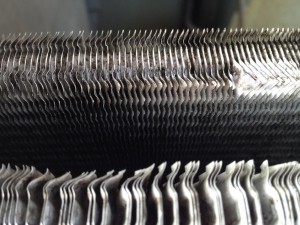 In 2009, the Howard County (MD) Public School System discovered that comfort issues were a leading concern among occupants in the district's 80 facilities. In an effort to increase comfort, improve efficiency, and reduce overall energy costs, the school system turned to its HVAC systems for answers.
"When we started, we thought we knew what the answers were and where the problems were," said Herb Savje, manager of the district's maintenance department. "What we found was that we weren't performing preventive maintenance on a continuous basis."
Addressing Occupant Comfort Concerns
It turns out that the comfort issues plaguing some 80 facilities could be directly tied back to a lack of HVAC Preventive Maintenance. Just 30% of the district's maintenance and repair efforts were proactive. The other 70% was reactive (also known as deferred maintenance). This led to inefficiencies, costly breakdowns, and high energy bills.
"So we came up with some processes and standards as far as what we're going to perform for preventive maintenance — the tools required, how often the preventive maintenance was required, and so on," said Savje.
Changing from Reactive to Preventive Maintenance
By focusing on HVAC preventive maintenance, the Howard County Public School System was able to improve performance and thus improve comfort, all while reducing energy costs. That's what we like to call a win-win! Today, the school system operates on a 60-40 ratio of preventive maintenance to reactive maintenance, instead of the 30-70 ratio that was the cause of all the problems. To accomplish this, the district implemented several new policies:
Standardization of tools
Standardization of equipment in their vans
HVAC specific training
More open communication between boiler techs, preventive maintenance guys, and HVAC techs
Technicians carry iPads to better utilize a new work-ticket system
Energy management system (EMS), which has cut maintenance calls by 50%
Energy Savings and Rebates from HVAC Preventive Maintenance
In 2013, the Howard County Public School System saved $150,000 in energy costs resulting from the new operating procedures and preventive maintenance. They also received roughly $105,000 in rebates from the local utility from doing retrocommissioning and taking readings before and after maintenance (such as cleaning coils) to show the health of the buildings and building control systems.
HVAC Preventive Maintenance from Crockett Facilities Services, Inc. (CFSI) in Maryland, Virginia and DC
CFSI is committed to helping building owners, property managers, engineers and facility professionals lower their operating expenses through HVAC preventive maintenance. We can evaluate existing HVAC equipment to develop a well-defined maintenance plan that will improve comfort, increase performance, reduce costs, and extend equipment life. Even if you have an in-house maintenance team, we can help support any supplemental needs, such as installations, repairs and retrofits.
To learn more about HVAC Preventive Maintenance, please contact Crockett Facilities Services (CFSI) at 202.600.2787 or sales@crockett-facilities.com. We're in this Building Together! Like us on Facebook; follow us on LinkedIn, Twitter, and Google+.
Sources:
Preventive Maintenance: Shifting a Department's Focus Pays Big Dividends, Facilitiesnet.com