When preparing or considering upgrades to your facility's current HVAC system, it's incredibly important to perform a proper HVAC evaluation beforehand. Any time a replacement or upgrade to these intricate systems is considered, everything must be taken into consideration—current and past issues, needs, equipment status, and more.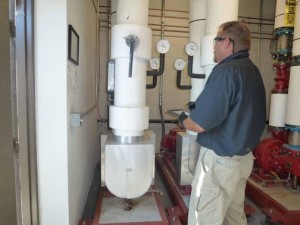 Consider the following steps for proper HVAC evaluation prior to making any replacements or upgrades in your facility.
Step #1: Feedback and communication
Before making upgrades or replacements to your current system, the first important step of HVAC evaluation involves feedback with current tenants or users of the facility. Any complaints you've had, such as air not reaching certain rooms, should be taken into consideration. Facility managers should also seek additional feedback before making changes.
Step #2: Inspection
This step should be performed by someone with experience in HVAC equipment and systems. It involves a visual inspection to see if there are any issues or challenges with the current system and setup that should be considered. All indoor and outdoor components should be inspected for corrosion, debris, obstructions, and structural integrity.
Step #3: Analysis
Now that you have input from tenants and a good inspection of your current system, you have all the information needed to decide what action should be taken. You may only need repairs, or you may opt for upgrades to handle additional loads or situations. You might even benefit from an entire system replacement. However, these decisions cannot be made without first performing a full, careful HVAC evaluation.
It's important for the evaluation to be thorough and not rushed. You may not be sure how to inspect HVAC equipment, or don't have time to see the entire process through. If this is the case, call your local experts at Crockett Facilities Services to have a quality HVAC evaluation performed for you.
Call Crockett for your HVAC evaluation and service needs.
This is where Crockett Facilities Services, Inc. (CFSI) can help. We service all types of HVAC equipment, including packaged terminal air conditioners (PTACs), air handling units (AHUs), rooftop units (RTUs), chillers, boilers, heat pumps and mission-critical computer room air conditioners (CRACs).
Over the years, we have fine-tuned and customized our preventive maintenance practices to ensure the best performance possible, extending the life of your HVAC equipment.
To learn more about HVAC evaluations or upgrades, please contact us at 202.600.2787 or sales@crockett-facilities.com. Our PM contract customers receive priority service with 24/7 emergency service in Maryland, Virginia and Washington, DC.