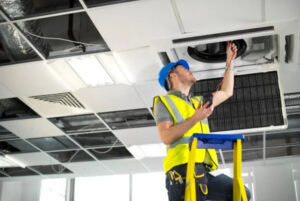 It's hot. The last thing on your mind is the building's heating system. Before temperatures drop, you'll want to make sure your commercial heating equipment is ready to run when the time comes.
Here are a few suggestions to make sure your system is ready for the transition to heating.
1.     Schedule Professional Commercial HVAC Maintenance in the Summer
At the minimum, your facility's heating equipment should be professionally tuned up once per year. For Crockett customers, our HVAC heating system preventive maintenance starts now—in the dog days of summer. Having this service completed before the system goes into use can spare you surprise breakdowns and delays when cold weather arrives.
We also know the importance of detecting any needed repairs early so that we can order necessary parts now. Due to current supply chain restraints, some parts take over two months to receive from the manufacturer. Finding issues early is imperative.
2.     Review Your Building Operation Plan
When it's time to switch over to the heating system, your facility's automation controls and thermostat schedules will need to be updated. Take every opportunity to conserve and save energy by planning now. Consider any changes to your facility's occupancy or work schedules that will come with the changing season, and create thermostat schedules that can be put to use as temperatures drop.
3.     Check and repair all insulation exposed to outside elements.
4.     Check cooling tower sump heaters and pipe freeze tape.
5. Clear all exterior drains.
6. Perform preventive maintenance on snow removal equipment and order materials for melting and traction.
7. Check all dampers on air handling units for proper movement.
8. Ensure glycol levels and specific gravity readings for cooling systems.
9. Ensure all doors close tightly and PM radiant heaters in stairwells and equipment rooms.
10. Winterize your dry-pipe sprinkler system.
11. Partner with Crockett Facilities and *SKIP STEPS 1-10*
Leave it to the trained experts at Crockett Facilities. Crockett's flexible facilities services include a range of contract options to help you oversee commercial HVAC maintenance and every other facet or building operations. We'll help you lower energy costs, reduce subcontract management, extend the life of building assets, reduce administrative cost and provide single source accountability.
We promise to care about your building as much as you do. Contact us now for a quote and to learn how are solutions are made for you.