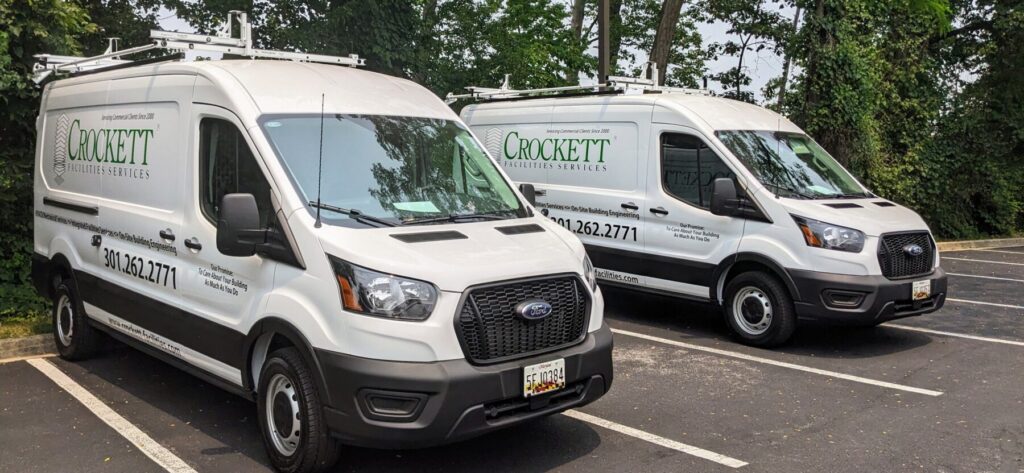 In the heat of summer, the last thing a building manager wants to hear is that the HVAC isn't working. Of course, the best way to prevent this is preventive maintenance…but, unless you have a time machine, that advice isn't helpful in such a crisis.
Fortunately, Crockett Facilities Services is poised and ready to help 24 hours a day, 7 days a week, and 365 days a year. Crockett is a premier HVAC/Mechanical service provider. We provide rapid response and robust equipment retrofit/replacement services. Our licensed technicians are the best in the business and focused on exceptional customer service.
Here's what you can expect when you book an appointment with Crockett Facilities Services:
When You Call
Our friendly phone operators will work to get you on the schedule as soon as possible. (Note: We give preference to our preventive maintenance service agreement holders.)
Before the Visit
Using GPS tracking technology, technicians are dispatched from our central office. Automated work orders with all pertinent data are transmitted to their hand-held field devices. When a tech sees you on their schedule, they'll call to confirm the date and time still work for you. You'll receive an email notification when the technician is on the way to your building.
During the Visit
The Crockett Facilities Services technician will check in with you, verify the problem, then discuss possible solutions. Our service technicians are licensed journeymen experienced in troubleshooting mechanical systems. In most cases, we can make the repair while we're on site. If your issue requires larger repairs, our team is able to provide a quote for the work before we leave the property. Our use of technology saves you valuable time. Our goal is to get you up and running as quickly as possible.
After the Visit
Our team will send you a work order with information about the repairs we made and, if applicable, what further action is recommended. You will also receive a video-based service inspection report using XOi Technology, detailing the issue and what was done to correct it. These video-based reports provide you transparency to our process and added confidence in our expert recommendations and repairs.
Preventing Future Downtime
Once your HVAC is repaired, consider a preventive maintenance agreement with Crockett Facilities Services. to reduce energy cost, prolong the life of equipment, maintain equipment warranties, and reduce unscheduled outages like the one you just experienced. Dirty filters, clogged coils, low refrigerant levels, worn belts, and more can negatively impact your HVAC. Our preventive maintenance programs are flexible and mindful of your budget. We have several options, ranging from full coverage to test and inspect programs.
Don't let your tenants sweat it out this summer. Call Crockett at 301-781-7011 for HVAC repairs and preventive maintenance. We're ready to help!