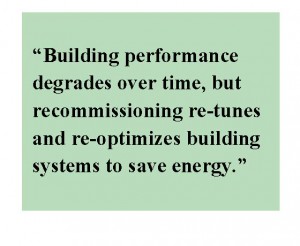 Over the years, building efficiency and reliability declines. Plain and simple. The degradation is especially severe in buildings with highly technical energy efficiency systems. For example, the Heifer International headquarters building in Little Rock, Arkansas, received an Energy Star score of 90 in 2007. Just four years later, the same building received a much lower score of 72, an indicator of inefficient building operation. The causes of degradation included lack of continuity with the maintenance technicians, misunderstanding of design and control strategy, short-term comfort adjustments, complex control sequences, equipment failures, and more.
The solution: Building Recommissioning.
Improving Building Reliability with Recommissioning
While commissioning (Cx) – now a prerequisite for LEED certification – is an intensive quality assurance process that begins during design and continues through construction, occupancy, and operations, recommissioning (RCx) is a second commissioning process. Recommissioning is often done at the onset of operational problems, or after a change in building ownership or purpose.
Implementing a building recommissioning program is one of the more cost-effective ways to reduce energy usage. Recommissioning resolves problems that occurred during design or construction and addresses problems that have developed throughout the building's lifetime due to operational and occupancy changes.
After going through the recommissioning process, Heifer's Energy Star rating climbed to 91, higher than its post-construction rating in 2007. The recommissioning helped improve overall comfort, reliability, and energy efficiency and had a payback of just one year. And, the building has continued to operate at peak performance.
Ongoing Commissioning
Part of a comprehensive approach is ongoing commissioning: a continuation of the commissioning process well into the occupancy and operations phase. This helps verify that a project continues to meet energy standards, and helps identify small issues before they can snowball out of control. An ongoing commissioning process includes:
Daily monitoring of the facility's HVAC systems
Site inspections
Comparison of the current data with expected results
Continued adjustments to control sequences and set points for peak HVAC performance
Occupant thermal comfort
With a comprehensive approach, a return on investment will be achieved through energy and maintenance savings and the building's improved reliability.
After the Heifer International Headquarters completed recommissioning in 2011, and after corrective actions were implemented from an ongoing commissioning site survey in May 2012, energy usage was reduced by 15% along with a 36% reduction in natural gas use. Their comprehensive approach paid off.
Trust Crockett Facilities Services, Inc. (CFSI)
The MSCA GreenSTAR qualified service technicians at CFSI know how to make a difference by improving the operating performance of your building. Our commercial service division helps building owner, facility professionals, and property managers preserve their building investment and improve their bottom line by optimizing the performance of their mechanical and HVAC equipment. We will keep your equipment operating at peak efficiency, reducing your energy costs and keeping your tenants comfortable and happy.
For over 13 years, we have helped both government and commercial facilities in Maryland, Northern Virginia and Washington, D.C. to run smoothly, safely, and reliably. Contact us today for a service quote for your commercial heating and cooling systems.
To learn more about Building Recommissioning, please contact CFSI at 202.600.2787 or sales@crockett-facilities.com. A woman-owned business headquartered in Bowie, Maryland, CFSI is a mechanical contractor providing integrated facilities services, heating, ventilation, and cooling (HVAC) services, data center cooling services and energy management services.
Like us on Facebook; follow us on LinkedIn, Twitter, and Google+.
Sources:
Building Recommissioning Helps Heifer International Meet Challenges Of Reliability, Efficiency, And Sustainability, Facilities.net