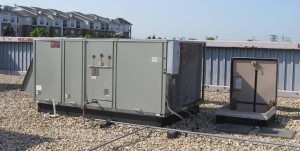 Property managers and business owners are challenged with reduced operating budgets while still being held to running their buildings efficiently and retaining tenants. Unfortunately, this often leads to delaying equipment upkeep. While deferred maintenance, such as repairs for rooftop package units (RTU), may seem like a solution to stay under budget, the truth is that doing so could cost more in the long run…A LOT MORE.
A Real Life Example of Delaying Maintenance
Comprehensive preventive maintenance performed twice a year for an RTU serving a retail mall in Beaufort, S.C. would have paid for itself, along with a 50-plus-percent ROI over a 15-year life cycle.  The PM cost over seven years of RTU's service life would have totaled $5,600. By deferring maintenance, assuming linear straight-line deterioration in performance, the added energy cost was $8,400 over seven years, and would have added up to $15,000 over 12 years. In addition, the rooftop unit's life would have decreased by three years.
The Consequences of Deferred Maintenance for Rooftop Units
Deferred HVAC maintenance on rooftop units can lead to higher energy and repair costs, system failure, equipment breakdown, and even potential health and safety issues. Over the first several years of service, a rooftop unit can experience up to 30% degradation in energy efficiency, without facility managers knowing that operating efficiency has decreased, as they still can cool adequately. Without proper maintenance, there are component breakdowns, system failures, equipment damage/deterioration, RTUs shutting down and more occupant complaints. Energy savings from preventive maintenance are $50 to $100 per ton per year.
To save energy and increase efficiency, below is a list of the most important RTU maintenance tasks, with service performed at the beginning of the cooling season.
Clean the condenser coil.
Verify operation of the condenser fan(s).
Adjust refrigerant charge.
Verify proper economizer operation.
Check compressor discharge temperature.
Test compressor oil for the presence of acid.
Test high- and low-pressure cutout switches.
Adjust the TXV.
Check and adjust the blower belt.
Routine maintenance should be performed before the cooling season starts and after the cooling season.
Invest in HVAC Preventive Maintenance
It is well worth the investment to have an annual preventive maintenance contract with a company that focuses on PM work with highly-trained service technicians, such as commercial HVAC and mechanical contractor, Crockett Facilities Services, Inc. (CFSI). Our journeymen technicians develop customized PM lists based on years of experience to maximize performance and efficiency, and to extend equipment lifespan. We are dedicated to help building owners, property managers, and facility engineers to lower their operating expenses and energy costs through our preventive HVAC maintenance programs.
To get a cost quote for our RTU Preventive Maintenance Programs or to schedule an RTU inspection and evaluation, please contact CFSI at 202.600.2787 or sales@crockett-facilities.com. Our PM contract customers receive priority service with 24/7 emergency service in Maryland, Virginia and Washington, DC.
Like us on Facebook; follow us on LinkedIn, Twitter, and Google+.
Sources: