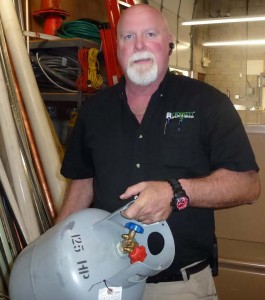 The United States Environmental Protection Agency (EPA) has announced its final schedule for the R-22 phaseout, which it has described as an "aggressive linear reduction." Beginning in 2010, manufacturers of heat pumps and air conditioning units were prohibited from producing new equipment using R-22. And starting next year, the EPA will limit new and imported R-22 to just 22 million pounds from 51 million pounds allowed in 2014. This number drops to 18 million in 2016, 13 million in 2017, 9 million in 2018, 4 million in 2019, and finally no new and imported R-22 after January 1, 2020.
What is R-22?
R-22 is an efficient, non-toxic, and easy-to-use refrigerant. In fact, it is the most widely used refrigerant in the world and has been for over 40 years. The problem: R-22 is a hydrochlorofluorocarbon (HCFC) refrigerant, containing chlorine. This means that the release of R-22 depletes the ozone layer. So to protect and hopefully repair the ozone layer the production and import of R-22 coolant is being phased out.
The R-22 Phaseout
While the EPA considered less drastic, more gradual action, it settled on its "aggressive linear reduction," a 57% reduction from the 2014 allocation of R-22. So what does this mean for you and your business?
First and foremost, start planning now. Do not wait until the last minute to prepare your business for life without R-22. You have five years to properly prepare your business for the phaseout.
Don't panic: There should be sufficient supply to meet servicing demands in the near future, however some experts are predicting shortages.
Be Prepared to Pay More: Prepare for a dramatic increase in R-22 pricing.
Alternative Refrigerants: You can expect a significant spike in alternative refrigerant sales and reclaim activity.
Consider Reclamation: Reclamation brings used refrigerants back to ARI-700 purity standards. In layman's terms, reclamation allows any R-22 currently in use or yet to be produced to be recycled and reused well beyond 2020.
Replace HVAC Equipment: During your routine maintenance visit, talk to your HVAC technician about your options. With the help of your HVAC technician, you can develop (and budget for) a plan to start changing out your HVAC equipment to newer systems that don't use R-22.
Trust Crockett Facilities Services, Inc. (CFSI): Plan ahead. "In order to prepare for the discontinuation of R-22 refrigerant we have been selling and installing equipment that uses R-407c andR-410a refrigerants," explains Larry Ganbin, CFSI Field Service Foreman. "They are the replacements for R-22. We are also using a company that has a fully comprehensive cylinder exchange program. They supply us with cylinders and there are no costs for their services. They also do all of the record keeping that is required by the EPA for us also at no charge."
To learn more about the R-22 Phaseout, please contact CFSI at 202.600.2787 or sales@crockett-facilities.com. As a commercial HVAC and mechanical contractor, CFSI's MSCA STAR and GreenSTAR certified technicians help building owners, property managers, and facility engineers to lower their operating expenses and energy costs through preventive HVAC maintenance in Maryland, Virginia and Washington, DC.
Like us on Facebook; follow us on LinkedIn, Twitter, and Google+.
Sources:
EPA Finalizes R-22 Phaseout Plan: Final Rule Limits Production to 22 Million Pounds Starting Jan. 1, 2015, The News