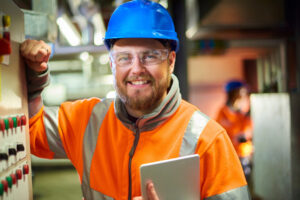 The Crockett Facilities Services philosophy is "We Care About Your Building as Much as You Do." We help commercial property managers, real estate asset managers, and building owners prolong equipment life and keep their tenants comfortable. Our service offerings range from full-service facilities management contracts for large commercial office buildings to a temporary building engineer staffing program. Since 2000, we have experienced steady growth by customizing our service offerings to achieve our customers' goals. Our four core services include:
Facilities Services
Crockett Facilities Services has a long history of caring for facilities of all types and function. We have the capacity to oversee every facet of building operation and are experts in extending the life of your most important assets. Our self-performance model means that trained, expertly managed Crockett employees will perform and exceed your expectations. We utilize the latest in technology to work smarter and more efficiently, delivering value to our customers. That means better outcomes for your facility and better experiences for your customers. Our flexible facilities services programs lower energy costs, reduce subcontract management, extend the life of building assets, reduce administrative costs and provide single source accountability.
HVAC/Mechanical Services
Crockett Facilities Services is a premier HVAC/Mechanical service provider. We provide customized preventive maintenance programs, 24/7 rapid response and robust equipment retrofit/replacement services. Our licensed technicians are the best in the business and focused on exceptional customer service. Our service offerings save you energy costs, prolong the life of your equipment, modernize your building and reduce emergency equipment failure.
Building Engineering Staffing
Crockett Facilities Services offers customers a temporary staffing solution by providing skilled and semi-skilled labor in the Washington Metropolitan Area. We self-perform all recruiting, interviewing and vetting with our facility experts to determine the best candidate before presenting them to our customers. All temporary engineers are employees of Crockett Facilities and therefore enjoy the same fringe benefits as the rest of the company employees. Our management structure is designed so that all temporary engineers have dedicated management oversight.
Mobile Engineering Services
When a full-time on-site engineer is not warranted, our mobile engineer service program is designed to flex with our customer's needs and stay within budget. Our mobile engineers are qualified to perform general building inspections, basic building maintenance services and equipment repairs. Our services can be performed on a re-occurring or as-needed basis. Re-occurring services are a great proactive approach to general building maintenance designed to reduce maintenance related emergencies. Some of our customers prefer the as-needed approach and bundle multiple non-emergency maintenance request to increase labor productivity and reduce travel cost. Our goal is to help you choose the best approach for your facility.
Let Crockett help keep your facility running smoothly. Contact us at 301-781-6538 or sales@crockett-facilities.com.