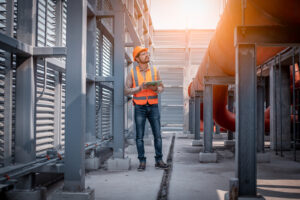 With the current supply chain woes and high-priced inflation, preventive maintenance of your mechanical systems is more important than ever.
Unfortunately, many companies have become accustomed to "running it until it breaks." Although never recommended, the risk of operating this way and the associated losses were much lower when we had a smoothly operating global supply chain and reasonable costs for replacement parts.
Inflation and supply chain delays are negatively impacting traditional plans for renewing equipment – waiting until something breaks may mean weeks or months of downtime. That's why professional preventive maintenance is more important than ever – it extends the life of your equipment, reduces downtime, and helps prevent costly repairs. In the event a repair or replacement is needed, preventive maintenance will put you ahead of the curve, giving you early warnings of potential problems, while there is time to source and acquire new systems or components.
Reduce Down Time. The current lead time for parts is like nothing we've seen. In many cases, the supply chain is 52 weeks out. Crockett's preventive maintenance technicians can help you foresee the need for replacement parts well in advance, so your business won't suffer while waiting for parts to arrive. Inspections that identify early-stage problems in tubing, piping, valves and other components can buy the time needed to place orders for long lead-time components.
Budgeting. Inflation has greatly increased the cost of replacement parts, and manufacturers are often changing prices monthly. A sudden, unexpected need for parts can place a heavy burden on your operations budget. Crockett's preventive maintenance technicians will help you prepare, working closely with your team to plan for the cost of upkeep and repairs, smoothing out those unexpected budget impacts.
Don't let supply chain issues and skyrocketing inflation cause significant downtime for your operations. Crockett Facilities has a long history of caring for facilities of all types and functions. We have the capacity to oversee every facet of building operation and are experts in extending the life of your most important assets. Request a quote here.