The end of the year is here and for a lot of businesses that can mean a shutdown for the holidays. If your facility is planning to close for a period of time, it's important to have a plan in place for the safety and maintenance of the building while you're away. We've listed below some important items to include on your holiday list now to give yourself peace of mind later. Of course, Crockett Facilities Services is available to manage all of this and more with our flexible facilities services plans.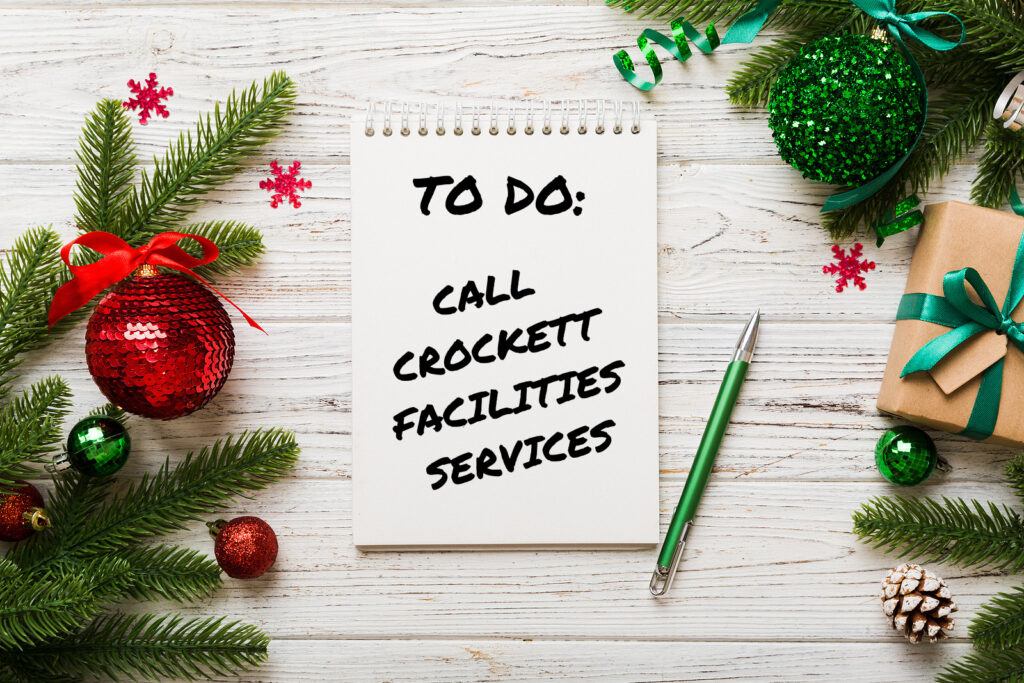 Review and Update Your Emergency Contact List. Make sure your emergency contact list is up-to-date. This should include all the subcontractors who can help with different facility maintenance issues and their emergency or after-hours numbers. Your contact for a plumbing issue is likely different than your contact for snow removal, for example. Remember to check their holiday schedules too to make sure they're available. (Note: Crockett Facilities Services is available around the clock for every building maintenance issue.)
Review Your Snow Removal Plan. Check to make sure you have all the supplies needed for snow removal, including ice melt, snow shovels, and snow blowers. Review the agreement with your snow removal company and make sure you have the on-call contacts so that you're not scrambling to have someone clear the parking lot when snow arrives.
Implement a Freeze Protection Plan. When pipes, irrigation systems, tanks or other equipment freeze, it's bad news for your facility. A good freeze protection plan includes inspection, preventive maintenance and repairs before the beginning of cold weather. Make sure your equipment is properly insulated and protected before temperatures drop.
Augment Staff with Temporary Maintenance Employees. If your facility maintenance team has a busy vacation schedule over the holidays, be sure to schedule coverage for essential shifts. With the current labor shortage, it can be difficult to backfill positions for a short time. Crockett Facilities Services can help. We offer a temporary staffing solution by providing skilled and semi-skilled labor to our valued customers.
Crockett Facilities Services is available 24/7/365, and we have a long history of caring for facilities of all types and function. We have the capacity to oversee every facet of building operation and are experts in extending the life of your most important assets. Let us manage your building during the holidays and every day. Contact us at 202-335-8637 or sales@crockett-facilities.com.