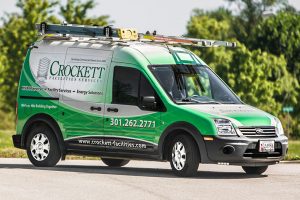 Property Management is finding it more difficult to hire technical talent in recent years. The Bureau of Labor Statistics (BLS), estimates the current HVAC technician shortage at 70,000. At the same time, the industry is losing over 10,000 technicians a year due to retirements and career changes.
Crockett Facilities Services makes building maintenance easy in the labor shortage. Outsourcing your facilities services will help you:
Save on labor costs. The shortage of skilled HVAC technicians has resulted in increased competition for available candidates and higher labor costs for businesses that require their services. By outsourcing, you can access a pool of skilled and experienced professionals without having to incur the costs of recruiting, hiring, training, and retaining staff.
Avoid service disruptions. The increased difficulty of hiring technical talent often means the positions sit vacant for some time. This causes service disruptions which could be catastrophic for business operations. Outsourcing facilities maintenance fills the void quickly with an experienced professional who ensures your building is well-maintained.
Focus on core business. Rather than worrying about maintaining your facilities, you can concentrate on your core business operations, which can lead to improved productivity and profitability.
Enjoy greater flexibility. Outsourcing allows you to easily adjust your facilities services according to your business' changing needs.
Access the latest technologies and equipment. Crockett Facilities Services has access to the latest technologies and equipment. By outsourcing, your business can benefit from these resources without having to purchase and maintain them.
If you're in need of facilities maintenance personnel, Crockett Facilities Services can help! We offer facilities services plans, mobile engineering services, and temporary staffing solutions. Call 301-781-7011 today or click here to request a quote online.